Directory
CanBeWell is home to over 100 members from across Canada and around the world. Our WEBSITE DIRECTORY lists those members currently accepting clients.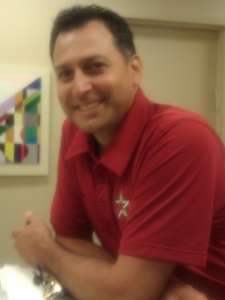 Georgio Trimarchi
Discipline(s):
Touch for Health™
Competency(ies):
Contact
Phone:
905-738-6303
Email:
gtrimarchi@innergetics.ca
Website:
www.innergetics.ca
Facebook:
https://www.facebook.com/innergeticsnaturalhealth/
Youtube:
https://www.youtube.com/user/innergeticsgt/videos
Instagram:
@innergetics_
City:
Weston
Province:
Ontario
Country:
Canada
Biography
Georgio has been a dedicated student of holistic healing since 1990 and is the founder and president of Innergetics. Discovering answers to causes of ill health and utilizing methods that work have encouraged him to pursue alternative practices, and has lead him to the Elohim Energy Healing method. He is also a registered massage therapist in private practice since 1990, and concurrently works as an Osteopathic manual practitioner and a Touch For Health practitioner and instructor. Georgio has taken many workshops and provides a unique vision on health.
Georgio has worked with various sports teams (i.e., track & field, swimming, gymnastics, hockey) as a Certified Sports Massage Therapist (SMT(c)). He acted as an Executive on the Board of Directors of the Canadian Sports Massage Therapist Association for seven years (1990-1997) and helped to advance sports massage nationally. He is a member in good standing with the Registered Massage Therapists Association of Ontario (RMTAO), the College of Massage Therapy of Ontario (CMTO), CanBeWell -formally CanAsk (Touch for Health association) and a former member of the Canadian Sports Massage Therapist Association (CSMTA).
With his Specialized Honors Physical Education Degree from York University and extensive knowledge in the health and wellness field, Georgio has developed expertise on optimizing performance levels and helping people lead a healthy, balanced life. His techniques involve Sports and Swedish massage, Suikodo (Shiatsu style), Osteopathy, Touch for Health, and Elohim Energy Healing Therapy. He is also a graduate from the Canadian College of Osteopathy. This has enabled Georgio to assess and treat patients efficiently and with accuracy in order to resolve problems.
His sensitivity as a therapist works on various levels dealing with the physical (i.e., muscles, nerves, joints, scar tissue) to the emotional body (releasing restrictions and pain in the body rooting from negative emotions) and beyond.
"Every patron is unique and requires a totality approach to discover the key that unlocks their full expression."
Classes
There are currently no classes available.