Blog
Mary Jo Bulbrook presents for the Shift into Wellness Synergy Summit - Pre-Summit Series
Michelle Greenwell
Oct 12, 2021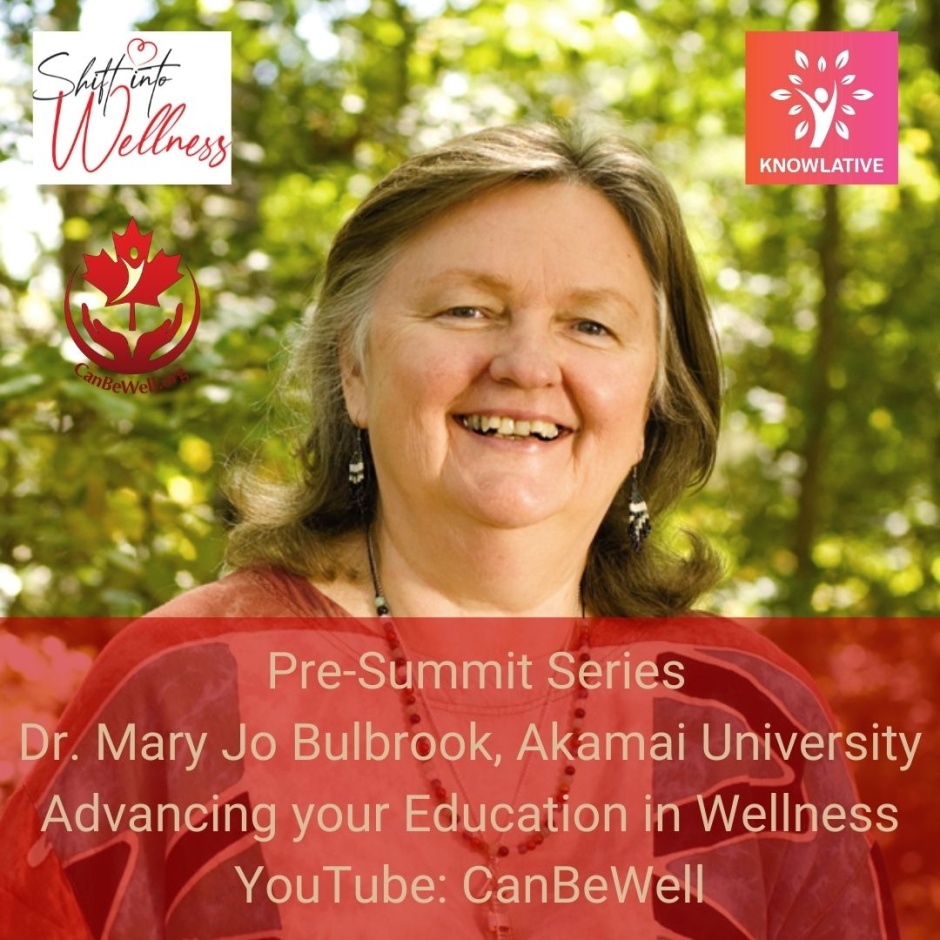 Dr. Mary Jo Bulbrook
BSN, RN, MEd, EdD, CEMP/S/I, HTCP, HTP/I, ICF

The past is gone. The way we have educated people no longer works. Experience Dr. Bulbrook's style of education. Share new opportunities to pursue your dreams, ambitions, and goals for your personal and professional life.
Multi-dimensional on-line teaching has taken hold and provides unique opportunities for individuals to realize the hidden truths of inner knowing and inner direction. Life can soar once you tap into this realm of doing the impossible through intention, channeled focus, and Divine inspiration.
See what is possible from the rich opportunities created by Dr. Bulbrook on the online training internationally accredited Akamai University. Test out new ways to talk to each other, connect heart centered and be led to solutions that benefit all!
Capture the hidden power within that is the launching site for new inspiration meeting your current life goals directed by a Higher Source rather than the mere intellect. Come away with helpful strategies for learning Soul to Soul communication that will serve you, your clients, and students. The universe is connected as ONE – we are all united – what happens in one affects the other. Learn where and how this data is stored then learn effective strategies to uplift the soul to realize one's life potential.
Dr. Bulbrook is President of Akamai University where she has provided a platform to online students all over the world studying for Bachelor, Master and Doctoral Degrees as well as Continuing Education. Integrated Health College, Equality for All College, Planetary Health College are cross platforms to explore multi-dimensional healing and empowered leadership.
As a world traveler, educator, practitioner, and researcher, she understands global issues in addressing cultural challenges on many platforms of reality. She exemplifies a "multi-dimensional constellation relationship" that transcends the mere intellect of two or more coming together to achieve a common goal that is exemplified in her leadership as AU President and CEO of the Global Healing Alliance created to revolutionize health practice, education, and research with natural healing empowerment model.


GHA MISSION - Collaborative Clinical, Educational & Research Services In-Person & On-Line Affiliated with Akamai University

Client Empowered Care
Firstly - Provides help for clients to find their path, walk their journey and make informed, client-centered health decisions. The goal is to open a broader, inclusive framework of care where individuals are treated equally, part of a family and member of a community. The recipient is the focus of intention and attention with culturally specific integrative approaches.

Wellness & Natural Health
Secondly - Keep health costs down by promoting a comprehensive, integrative wellness and natural health plan - including preventive care vs. illness, symptom or medical disease approach.

Collaborations in Care, Education & Research
Thirdly - Promote wellness, natural health and energetic care. This includes health education from qualified certified professionals or licensed care givers. Collaboration with approved organizations as equal partners alongside the existing system of illness care.
Her educational experience includes Tarrant County Junior College, Texas Women's University, University of Utah, Memorial University in St John's Newfoundland Canada, Edith Cowan University, Perth, Western Australia.
She served on the board of directors and other leadership roles in the organizations of American Holistic Nurses Association, Healing Touch, Energy Psychology, Touch for Health, Integrative Health, and the Global Healing Alliance to revolutionize health and healing.


"Recognize your Education"

Many of us in the wellness industry have come from a place of pain or illness, that required us to look further than the comfort and care that was being provided for us through the medical model or complementary therapies. Fast forward from those first few weeks and months of using biofeedback to personalize our approach with muscle monitoring or awareness, as well as goal setting and intention, with some action towards balance and flow. All this while beginning to find a community of people who continue to support and nurture the recovery as well as the education for wellness. This education may have started before we needed to have care. It may have been in education, generational sharing of wellness, experience, workshops and more. Dr. Bulbrook invites us to look at a multidimensional approach to our education and to recognizing the skills and assets, as well as experience that our complete education has provided. When you put this together, you may have been searching and learning your whole life on how to be a self-care guru.

This special interview with Michelle Greenwell, CanBeWell President, shares some valuable insights into how you look at your BioEnergetic Wellness training, as well as how you consider your life experiences and your healing memories.

As you go forward to advance the knowledge of our tools with those around you, in community, and around the globe. What knowledge might you be able to bring forward that you might have not considered valuable. What groups or activities might you belong to that could benefit from knowing bioenergetic wellness? Perhaps you have considered a pursuit of more education to advance your knowledge in a special area of interest. What would that look like and how could you begin that process? Perhaps Dr. Bulbrook's viewpoint might provide you with some special insights.

You can find the presentation on our YouTube channel for CanBeWell.


Source: Shift into Wellness Synergy Summit Update
Author: Michelle Greenwell